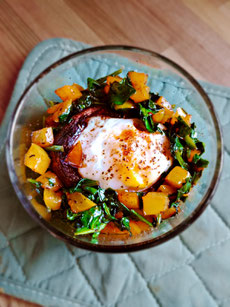 Breakfast Stuffed Portobello Mushroom – Whole30 & Paleo
Ingredients:
o   1 Large Portobello Mushroom, stem removed, inner flesh dug out with a spoon (you can either chop it up and sauté it with the peppers, or keep it for other recipes)
o   ½ Bell Pepper, any color is fine
o   1-2 Handful(s) Spinach
o   1 Large Egg
o   Healthy cooking fat (coconut oil, ghee, bacon grease from good quality bacon without sugar)
o   Salt and Pepper
Instructions:
1.      Preheat oven to 400°F.
2.      Oil glass baking dish, add mushroom with opening facing up. Bake for 10-12 mins, or until tender.
3.      While the mushroom is baking, heat up a skillet/fry pan over medium heat, with your healthy fat of choice, and dice your bell pepper and spinach. Place bell pepper in pan and sauté for 3-5 mins. Place spinach in pan with the peppers, stir and then turn off the burner.
4.      Remove Portobello mushroom from oven and turn the oven onto broil. Stuff the mushroom with some of the pepper and spinach mixture (not too full as you need room for an egg, the remainder mixture will be eaten with the stuffed mushroom). Crack an egg on top and season with salt and pepper.
5.      Place stuffed mushroom in oven and broil for 5-7 mins, until the white has set.
6.      Plate the mushroom with the pepper and spinach mixture and add any seasoning/garnish you would like. I like to add Cholula hot sauce and mustard to mine (don't knock it till you try it 😉)!