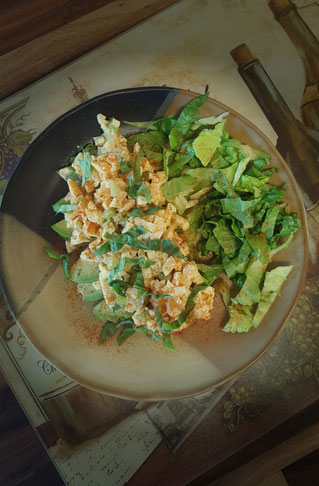 Egg Salad
1 dozen eggs, hard boiled (see instructions below)
2 celery stalks, diced
2 dill pickle spears, diced
1 Tbsp mustard
1 tsp dill weed
1/4 tsp smoked paprika (optional, ads a smoky flavor)
1/4 tsp paprika
1/4 tsp pepper or to taste
1/8 tsp pink Himalayan salt or to taste
1/4 cup homemade mayo
1/4 cup plain Greek yogurt
10 shakes cholula or your favorite hot sauce (optional)
Instructions:
Cut up hard boiled eggs (I use an egg slicer, but you could use a knife or just mash them with a potato masher), place in a large bowl.
Add all other ingredients to bowl and mix well.
For a low carb breakfast, serve either on top of sliced avocado or in a romaine lettuce leaf (I like to add chopped spinach, or some kind of greens to add more nutrition).
A couple ways to hard boil eggs:
Instant Pot Pressure Cooker method: Place the rack in the bottom of the pot and add 1 cup of cold water to the pot. Place eggs on rack and place lid on Instant Pot. Select low pressure and 11 mins. When the pressure cooker is finished, do a quick release. Once the finished, immediately move eggs into an ice water bath (large bowl filled with ice and water) and allow them to cool for a few minutes.
On the stove: In a pot place eggs in a single layer on the bottom and cover with water, making sure there is about an inch of water above the eggs, then cover with a lid. Bring this to a boil on High heat. After it has started a rolling boil, turn heat down to medium high and continue cooking for 9-11 mins (you may need to play with the time a little after doing it once, especially in higher altitudes). When they are finished, move them immediately to an ice water bath. They only need to sit for a few minutes to cool off and stop the cooking process.