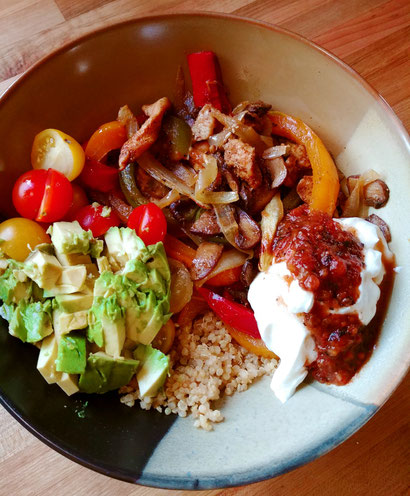 Oven Baked Chicken Fajita Bowls
Cook in 2 baking dishes as the ingredients are bulky when fresh and really shrink down after cooking.
·   1.5 Lbs. Chicken Breast, cut into strips
·   4 Assorted Bell Peppers, sliced into strips
·   1 Large yellow/red onion, sliced into strips
·   1 8-16 oz pkg Baby Portobello Mushrooms (depending on your love for mushrooms, mine is a lot!), sliced
·   4 Cloves of garlic, minced or crushed in a garlic press
·   2 Tbsp Taco Seasoning, or 1 (recipe below)
·   2 Tbsp grass-fed butter, divided
·   1 cup uncooked quinoa
·   2 cups water
·   ¼ tsp. cumin, salt, pepper, and onion powder (each item is ¼ tsp)
·   Optional topping ideas: plain Greek yogurt, avocado/guacamole, salsa, tomatoes, cilantro, lime juice
Preheat oven to 350° F.  Evenly distribute the chicken, peppers, onion, mushrooms, garlic, and taco seasoning into 2 baking dishes (9x13). Drizzle with a little avocado oil, toss ingredients together, and then place 1 Tbsp butter over top of each pan of fajita ingredients. Place baking dishes in oven for 40 mins, stirring halfway. After stirring the fajita's, start cooking the quinoa. Place the 2 cups of water in a saucepan, add quinoa, and seasonings mentioned, stir together and cover with a lid. Turn burner to a boiling temp, check on it after a few minutes to make sure the quinoa doesn't boil over. Once boiling, set a timer for 15 minutes and turn the burner down to a simmer (med-low).
Once everything is done cooking, assemble the bowls. Place about ¼ cup quinoa in a bowl, add fajita mixture along with any other toppings you would like. Enjoy!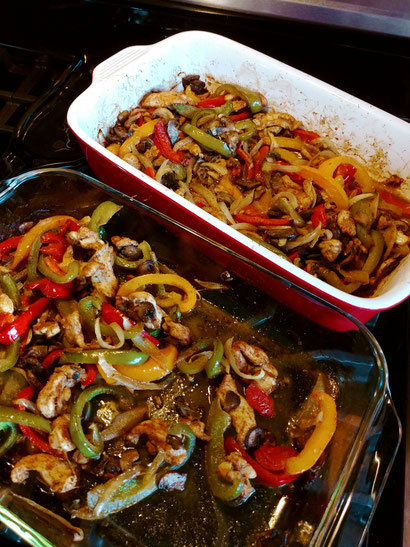 Taco/Fajita Seasoning Recipe
·   1 Tbsp Chili Powder
·   1 tsp Ground Cumin
·   1 tsp Black Pepper
·   ½ tsp Dried Oregano
·   ½ tsp Paprika
·   1 tsp Onion Powder
·   ½ tsp Pink Himalayan Sea Salt
·   ¼ tsp Cayenne/Red Pepper
Mix everything together and store in a container. This makes a little over 2 Tbsp, which is perfect for 1 recipe of fajitas.