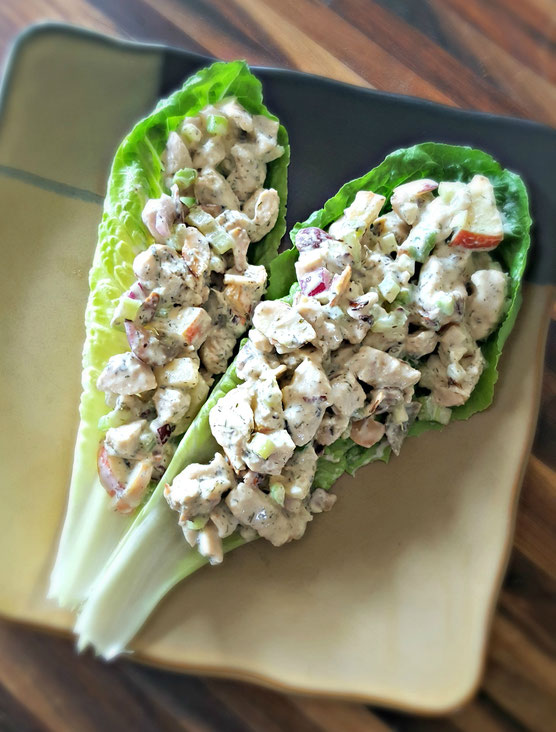 This recipe is so delicious, you'll want to make it often!  From the smoky flavors of the toasted almonds, to the crisp crunch from the apples and celery, and then the sweetness of the grapes.  This salad is sure to be a hit with family and friends!
Chicken Salad with Toasted Almonds
Servings: 6-8
· 2-3 boneless skinless chicken breasts (baked in the oven, cooled and shredded/cubed or cubed and cooked on the stove)
· 1 cup of diced celery
· 1 apple, cored, and diced small (your favorite type, I like Gala or Fuji)
· about 20 seedless red grapes, sliced
· 1/4 cup toasted sliced almonds (I buy sliced almonds and toast them in a cast iron skillet on the stove or you can toast them in the oven)
· 1/4 cup paleo mayo recipe here (I like to add the clove of garlic to this recipe, adds a little more flavor and health benefits)
· 1/4 cup plain Greek yogurt
· 1 tablespoon Dijon Mustard
· 2 tablespoons apple cider vinegar
· 1 tablespoon lemon juice
· 1 tsp dill weed
· salt and pepper (1/4 tsp Pink Himalayan salt & ¼-1/2 tsp pepper) 
Instructions:
1.    Place the chicken, celery, apple, grapes, and almonds in a medium-large bowl.
2.    Combine mayo, Greek yogurt, Dijon mustard, apple cider vinegar, lemon juice, dill weed, salt and pepper in small bowl/measuring cup.
3.    Pour dressing over salad and combine. Store in the fridge and serve with romaine lettuce hearts as a low-calorie and low carb option.